First Year Matters
The First Year Matters (FYM) programme is an all-institute initiative that supports and facilitates the successful 'settling in' of all of our incoming first year students.
APPLY TO BE AN FYM STUDENT LEADER
The programme is run over the first four weeks of the autumn term, and is coordinated by the Students' Union and the FYM team.
Settling in to third level can be a daunting experience. At the centre of this programme are the First Year Student Leaders, a small group of amazing students whose role it is to help all new students find their feet and enjoy student life at IADT.
Welcome to FYM 2018/19
Salutations and Congratulations! You made it and we are delighted that you are here. We want to welcome you in a big way – with a month of events and happenings that will ease you into your new life in IADT…because First Year Matters…
Check out the schedule for all of the events over the first four weeks. These will be up on the glass in the student canteen. The FYM Student Leaders will be in your classes during the week to remind you of all of the events.
FYM is an extended induction programme for you, our first year students. But it's also a lot more. It's a way of being, an ethos, a movement that resides at the start of the student experience in IADT. The programme was developed by Rebecca Roper in collaboration with IADT's Students' Union and is supported throughout the institute, from the President to the Estate Staff. At the heart of the initiative are the 12 Student Leaders – they will help you over the first four weeks to settle and find your feet in college. They've been where you are now. IADT is a very friendly place and a great place to study. Enjoy yourself and work hard! We can't wait to meet you!
Here are your FYM Student Leaders and the courses they are studying.
Tim Charles English, Media, Cultural Studies
Abigail Murray Business an Arts Management
Katie Quinn English, Media, Cultural Studies
Louisa Keogh English, Media, Cultural Studies
Sorcha Morgan English, Media, Cultural Studies
Annie Laing Entrepreneurship and Management
Somhairle Brennan Applied psychology
Finnuala Devins DSS Make-up design
Aoife Kelly DSS Production Design
Daniel John Tynan DSS Production Design
Glen McGuiness DSS Costume Design
Amy Murphy Fine Art
First Year Matters Leaders 2017/2018
We're here to answer any question a new student may have, no matter how seemingly small, so please feel free to ask.
Hi! I'm Amie, and I'm a third year Animation student. I like comics, animation, and watching cooking shows where people sass each other. As well as being on FYM, I've been a class rep for two years, and a part of the welfare committee for the past year, but my proudest achievement by far is eating 5 custard donuts in under 10 minutes. I've found IADT to be a great place to be, and I look forward to helping you learn about it, settle in and enjoy it.
Amy is a mature student of Art; there were a lot of bubbles in her first year projects so she has deemed herself IADT's resident bubble alchemist. Now moving into second year Amy still has the questions and concerns that come with first year fresh in her mind and is looking forward to letting you in on the inside scoop. When she is not blowing bubbles in college she is making new friends (human and canine) and basking in Dublin's cultural scene.
My name is Chloe, I'm 25 and I'm going into 4th year of English, Media and Cultural Studies. I'm an avid reader and writer. I hope to continue my education following my degree here at IADT with the aim of become a lecturer and academic. I'm a well engaged student in the college. I am part of the current Student Union Welfare Officer's Welfare Committee. I was an FYM leader during the 2016/2017 academic year and it was a wonderful experience. The FYM programme is an excellent way for students to feel at ease and get involved in the college. It allows us as fellow students to guide and help new students in their first weeks and months here at IADT. I am excited to meet and work with a new group of first year students this coming September!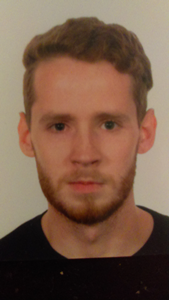 My name is Emmet O'Reilly, I'm a third year Entrepreneurship student who's all about work, study and living life. My time in IADT has been amazing. From meeting new people, setting up a society and working with the Students Union I'd recommend getting involved in as much as possible early on. If you see me around the college say hey and let me know how you're getting on.
Hi! My name is Fionnuala, I'm a 19 (nearly 20) year old Virgo (that matters a lot sometimes), and I'm a proud member of the "Under 5'4" Club". I'm most recognisable by my eyebrows and my constant joking and sarcasm (think Chandler Bing 2.0). I like long walks on the beach, anime and sweets with lots of E numbers. This September, I'm heading into my Year 2 of Design for Stage and Screen. I found the course by chance while working my way through the CAO handbook, and I'm so glad I did!! First year was very busy, and I often found myself challenged, but I also enjoyed it beyond words, and each of the projects was seriously rewarding, so I'm really looking forward to what this year will offer me. I applied to and successfully joined the FYM team because I love to make new friends, and enjoy offering guidance and advice to people. As a student straight out of secondary education beginning my first year in college, the FYM team proved a valuable resource, and an incredibly warm and welcoming group of people who made me feel right at home in IADT before my first day was done; I want to give my thanks by paying it forward, and being one of the people who welcomes in new first years and makes them as comfortable in IADT as I am.
Hi there! My names Katie Quinn, from Shankill Co. Dublin and I'm an incoming second year student of English, Media & cultural studies. After finishing my degree I hope to teach English or travel (fingers crossed!). After taking a year out, I came to IADT to study English and can honestly say it was one of the best decisions of my life! IADT is my second home and my friends here have become my family. Applying to FYM was a no brainier for me because of how much of an impact it had on me at the start of my 1st year! Hopefully I can take what I learnt from FYM and make that same impact for anyone starting this year by making them feel comfortable and welcomed to our amazing college! Enjoy & have fun!
Sup peoples, Kev here, I'm 23, I have 3 brothers, AND A FLUFFY PUPPY!! I love music and play drums, guitar, trumpet, piano, bass, ukulele, and a little vocals, I'm quite the gamer too and I love to help people out. I've just graduated from 3rd Audiovisual Media Technology and will be starting 4th Creative Media Technology come September 2017, I am the treasurer of Nerd Society in IADT, I was also a part of the Welfare committee that was managed by your Welfare Officer Andrew Martin, and I was an FYM last year too and vastly enjoyed it. Now that I've done FYM once before, I'm more accustomed to the work pace and what needs to be done so I feel more prepared to tackle anything that need to be done to make this year's FYM programme even better than the last, Onwards and Upwards, if anyone ever has a question they need answering, please don't be afraid to ask, I will help you to the best of my ability or refer to someone else if who can help if necessary.
Hi! My name is Louisa Keogh, I'm from Wexford and in second year EMCS. I'm passionate about English and culture so this course allows me to understand and learn how literature changes and shapes social cultures. I also enjoy long true crime documentaries and binge reading about conspiracy theories! IADT has become a home away from home this past year and I'm excited to make you feel the same way through FYM, which was a big part of a seamless transition! I hope you enjoy it as much as I have!
Hey, I'm Rob. I'm a fourth year Applied Psychology student. I do a lot of work in user experience and web design, making things on screens easier to use. I live in Rathfarnham, but managed to escape the clutches of the 75 bus with my little blue Renault. I'm graduating this year (eep) and hoping to go into some sort of design field when I'm finished. Feel free to come up and ask me any questions, I can be spotted from far away due to my lankiness.
Somhairle is going into his 2nd year as an Applied Psychology student and is a proud Donegal man. He likes long walks on the beach, cats and punk. He is looking forward to being an FYM Leader and helping new students adjust to life away from home. He is an enthusiastic member of the college community to the point there is confusion about what course he actually does.
My name is Tim Charles and I am 22 years old. I am going into my third year of English Media and Cultural Studies. IADT has completely changed my outlook on life. This college has an incredible sense of community. If you embrace it, I promise you will make friends and memories that will live past your college course. Outside of college, I like to act and regularly perform stand up comedy around Dublin. Can't wait to have a laugh and chat with you all.
Hi there, My name is Vicky Ledden, I am currently going into my 4th year of Business Studies & Arts Management in IADT this September. Being in IADT the last 3 years has shown me the sense of community between students and lecturers and gives me a keen interest to get involved and meet all the new people entering this year. I would consider myself to be an outgoing, friendly and fun person who loves learning new things and helping others. My expectations for the First Year Matters this year is getting to know you all and becoming a friend to people in need. I have strong views about mental health so let's get talking about it! I can't wait to meet you all, see you soon.